Because this is a school playground, right?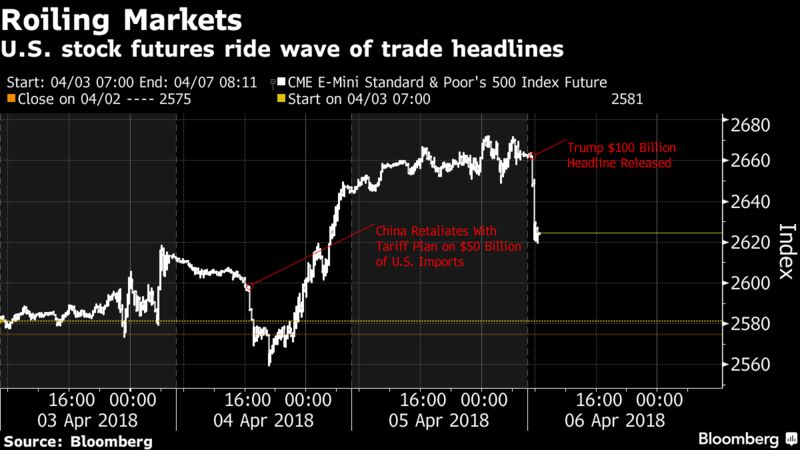 Oh, dear, what can the matter be?
President Donald Trump said on Thursday he had instructed U.S. trade officials to consider $100 billion in additional tariffs on China, fueling an already heated trade dispute between the world's two biggest economies.
That number courtesy of Professor Otto Yerass. And because it sounds big and scary and tough; not because it's based on anything at all, except "Fuck You, China! You don't scare me!"
This is how businessmen negotiate deals, apparently.
Trump said in a statement the further tariffs were being considered "in light of China's unfair retaliation" against earlier U.S. trade actions that included $50 billion of tariffs on Chinese goods.
It's only fair when we impose tariffs, not when they do. As for Trump's response, it's a triple-dog dare. He went right past the double-dog dare, but why not? He knows the Art of the Deal.
U.S. stock index futures fell in reaction to Trump's latest statement. Financial markets have swung wildly over the past few days in response to fears of escalating trade tensions between Washington and Beijing.
FAKE NEWS! Besides, the Secretary of the Treasury tells us to remain calm,
all is well:
"I don't expect to see a big impact on the economy," Mnuchin said on "Fox News Sunday." "But again, I think what we're doing is, long-term, very good for the economy."
Yeah, that guy; the guy who is so clueless he didn't realize that image might be problematic. I feel better already.
When you're already $500 Billion DOWN, you can't lose!

— Donald J. Trump (@realDonaldTrump) April 4, 2018
This is a good time to remember such insights as that.
"Rather than remedy its misconduct, China has chosen to harm our farmers and manufacturers," Trump said.
What were you expecting them to do? And do you really think farmers and manufacturers don't know who is to blame?
The tariffs have stirred fears that the two countries will spiral into a trade war that will crush global growth.
But you can't lose a trade war, right?
The Trump administration this week proposed 25 percent tariffs on some 1,300 Chinese industrial and other products. China shot back with a list of similar duties on American imports including soybeans, planes, cars, beef and chemicals.

The retaliatory tariffs have left Republican lawmakers from Western and Midwestern states fearful of a big hit to U.S. farming exporters.
Not that fearful, apparently. Not yet.
However:
I'm focusing on the area I know, rural Iowa, but if the president stays on course with the tariffs, the impacts will hit many rural areas all over America, what I call Trumplandia.

"It gives Democrats a generational opportunity to do the political work with farmers they haven't done since the 1980s farm crisis," said Matt Russell, a rural sociologist and farmer in Iowa. "Democrats do farm policy really well but are terrible at farm politics. Republicans do farm politics really well but have a history of doing terrible farm policy."

Harvest will be coming in when members of Congress, in recess, return to Iowa to campaign. They will be getting earfuls from rural constituents about the economic impacts of Mr. Trump's tariffs.
Steve King is not worried about the impact of the Parkland kids on his gun support rep;
but he is worried about the effects of a trade war on Iowa.
The entire Iowa congressional delegation wrote to the president Wednesday urging him not to impose the steel and aluminum tariffs. The letter said "tariffs are a tax on families and hardworking Iowans cannot afford a trade war."
They just don't understand, like Wilbur Ross does, that Chinese tariffs don't matter because
they only apply to 0.3% of U.S. GDP
(somebody needs to tell the President, too, I guess). In the grand scheme of things those hardworking Iowans are just so much collateral damage, eh? Of course, Mr. Ross is not from rural Iowa.
He ran an equity shop and lied about his net worth
to stay on the Forbes 400 list; well, until he had to file a financial disclosure on being selected as Secretary of Commerce.
It's always morning in America somewhere.