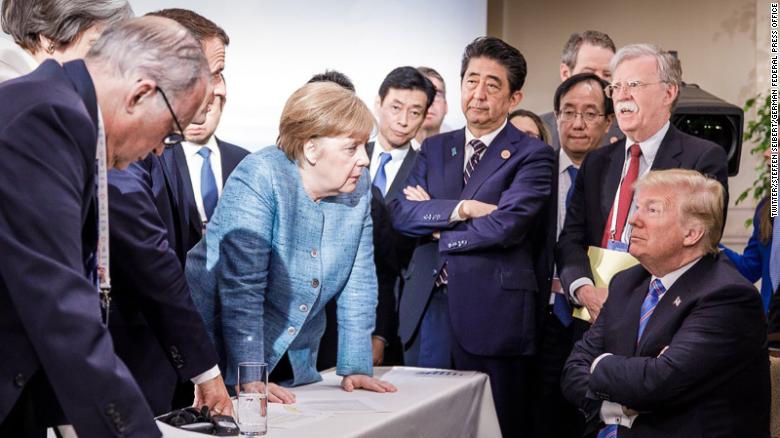 This is going well:
Speaking to reporters at the annual G-7 meeting, the president said that totally eliminating trade barriers between the nations would be "the ultimate thing" and "that's the way it should be." He called many current tariffs on U.S. goods and services "ridiculous."

"We're like the piggy bank that everybody's robbing ― and that ends," the president said.

He later said, "It's going to stop, or we'll stop trading with them. And that's a very profitable answer, if we have to do it."
I think all the heads on all the bodies of all
the Wall Street Journal editorial board just exploded.
Meanwhile, on the other side of the world:
"It's going to be something that will always be spur of the moment," he said about any potential agreements with Kim. "You don't know. This has not been done before at this level." At the top of the agenda for the meeting is Washington's demands that Pyongyang surrender its nuclear weapons program, though Trump said he believes the summit will at the very least help build a "relationship" between the two countries. Whether or not it will yield a more significant agreement is something he said he'll know "within the first minute." "Just my touch, my feel. That's what I do. And if I think it won't happen, I'm not going to waste my time. I don't want to waste his time," he said.
Yeah; may you live in interesting times. I don't know if that's an old Chinese curse or not, but it comes now translated from the Russian