When the Mayor of Washington, D.C. had "BLACK LIVES MATTER" painted on the street leading to the White House, Trump was silent. When Mayor Bill deBlasio announced he'd do the same to the street in front of Trump Tower in New York City, Trump reacted:
Told that

@NYCMayor

Bill de Blasio wants to paint the fabled & beautiful Fifth Avenue, right in front of Trump Tower/Tiffany, with a big yellow Black Lives Matter sign. "Pigs in a Blanket, Fry 'Em Like Bacon", referring to killing Police, is their chant. NYC Police are furious!

— Donald J. Trump (@realDonaldTrump) June 25, 2020
Trump doesn't live in New York City anymore. But he's still a New Yorker; which explains, in no small part, his continued refusal to accept the coronavirus pandemic is getting worse, not better. After all, it's not that bad in NYC anymore, right?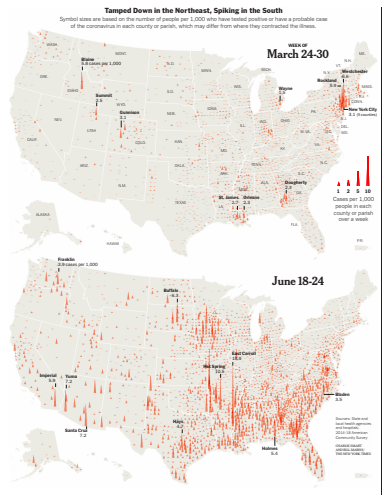 I suppose a picture IS still worth a thousand words. Cases have sharply declined in the northeast; but the rest of the country is suffering. The view from 9th Avenue, remains the same; at least for the President of the United States.