I never said "give teachers guns" like was stated on Fake News

@CNN

&

@NBC

. What I said was to look at the possibility of giving "concealed guns to gun adept teachers with military or special training experience - only the best. 20% of teachers, a lot, would now be able to

— Donald J. Trump (@realDonaldTrump) February 22, 2018
I didn't say we should arm teachers; I said we should arm teachers! See? Completely different!
It took three more tweets to make that point:
....immediately fire back if a savage sicko came to a school with bad intentions. Highly trained teachers would also serve as a deterrent to the cowards that do this. Far more assets at much less cost than guards. A "gun free" school is a magnet for bad people. ATTACKS WOULD END!

— Donald J. Trump (@realDonaldTrump) February 22, 2018
....History shows that a school shooting lasts, on average, 3 minutes. It takes police & first responders approximately 5 to 8 minutes to get to site of crime. Highly trained, gun adept, teachers/coaches would solve the problem instantly, before police arrive. GREAT DETERRENT!

— Donald J. Trump (@realDonaldTrump) February 22, 2018
....If a potential "sicko shooter" knows that a school has a large number of very weapons talented teachers (and others) who will be instantly shooting, the sicko will NEVER attack that school. Cowards won't go there...problem solved. Must be offensive, defense alone won't work!

— Donald J. Trump (@realDonaldTrump) February 22, 2018
"This is a president who doesn't just listen, he acts," she said. "So, I predict on his watch, things will change. And people will feel like school safety and public safety are much enhanced because he is the president."
Well, he listens when he's reminded to listen: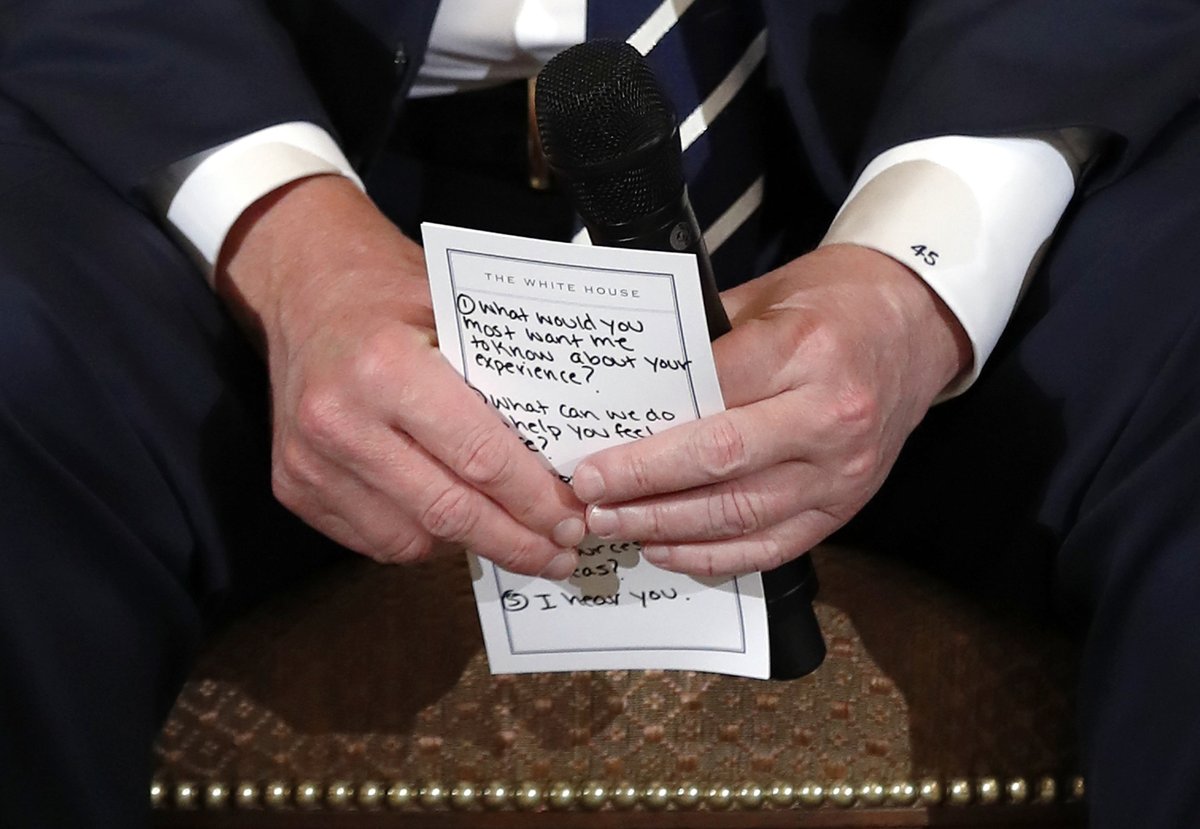 "The small discussion yesterday about the possibility of allowing some educators and administrators to be armed at some schools, to focus on that alone today is disingenuously covering the fuller discussion yesterday," Conway remarked. "And frankly, it's disrespectful to the people who are in that room raising any number of different issues."
You notice she's not defending the idea; she's denying it. And she's denying that the President made that the focus by tweeting about it four times. Nope. That's not what happened.
"I think it benefits us all that you have a non-politician in the White House behind me because he can see this with a certain clarity that others perhaps cannot," she concluded. "There cameras were on the whole time too and everybody should appreciate that."
Yes, the cameras did tell us exactly what was going on, right down to Trump's notes to remind him to show empathy and feign interest.
Phil Mudd was right;
this President is completely irrelevant. He holds the office, but the lights are on and nobody's home.