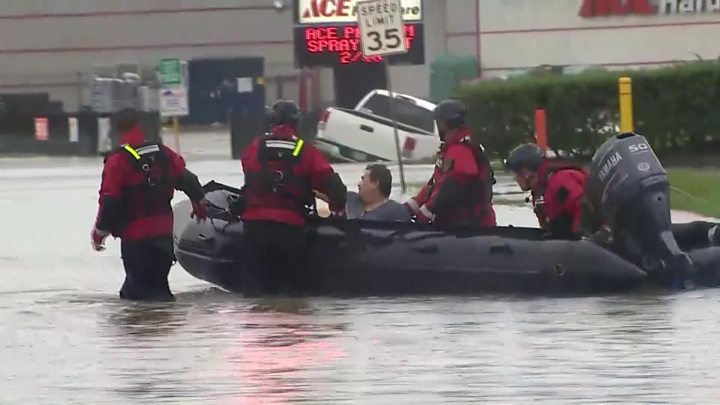 This is as "major" as the rescue operations can be right now.
Wow - Now experts are calling

#Harvey

a once in 500 year flood! We have an all out effort going, and going well!

— Donald J. Trump (@realDonaldTrump) August 27, 2017
Actually, what a "500 year flood" means is that the chances of such a flood are .2%. Not that they can only occur once every 500 calendar years. You'd never know the President has access to the best information on the planet. Not that it's any use if you won't pay attention to it.
And the Houston area alone may receive as much as 50 inches of rain before what is left of Harvey goes north late next week. That's equivalent to a year's worth of rain in the wettest areas of this state, in one week. "Wow" is wholly inadequate. This is a completely unprecedented storm. This is more rain than has fallen on Texas in such a short span in recorded history. "Wow" is a term for children.
Going to a Cabinet Meeting (tele-conference) at 11:00 A.M. on

#Harvey

. Even experts have said they've never seen one like this!

— Donald J. Trump (@realDonaldTrump) August 27, 2017
No shit, Sherlock. As for that "all out effort", even the state of Texas can't bring in rescue equipment to Harris County (most of which is Houston). It simply can't get through the flooded roads. Local officials are issuing calls to private citizens with flat-bottom boats are "high water vehicles" to please call and volunteer for rescue aid. Many parts of the area are flooded, and the rains we've already had are expected to be matched in the next few days.
"Going well" my ass. What a dipshit.
Major rescue operations underway!

— Donald J. Trump (@realDonaldTrump) August 27, 2017
Is he watching FoxNews, or a disaster movie?
Because he's as clueless as Lewandowski.
BTW, the people of Texas are glad to know you can multi-task:
With Mexico being one of the highest crime Nations in the world, we must have THE WALL. Mexico will pay for it through reimbursement/other.

— Donald J. Trump (@realDonaldTrump) August 27, 2017
We are in the NAFTA (worst trade deal ever made) renegotiation process with Mexico & Canada.Both being very difficult,may have to terminate?

— Donald J. Trump (@realDonaldTrump) August 27, 2017
The only longer term impact than the "wall" and NAFTA on Texas will the Harvey. So I guess it makes sense to keep talking about something you can't do (you admitted as much to the President of Mexico) and something you don't understand (much of the Texas economy runs on NAFTA but, go ahead, blow it up. How could that be a problem at all?).
Dipshit.
Let me just add that everything that can be done, is being done.
This is a good reflection of what's being done and what's going on:
The Coast Guard was overwhelmed with requests for help as it carried out urban search and rescue operations in the greater Houston area on Sunday morning. "Currently there are five MH-65 Dolphin Helicopters conducting rescues," the Coast Guard said. Officials are urging residents to stay put even if some water has entered their homes, and not to call emergency services unless it's a life or death situation. "911 services at capacity. If u can shelter in place do so, a few inches in your home is not imminent danger. Only call if in imminent danger," the city of Houston tweeted.
But "Major rescue operations," as if this were a disaster movie instead of real life? What a clueless boob our POTUS is.