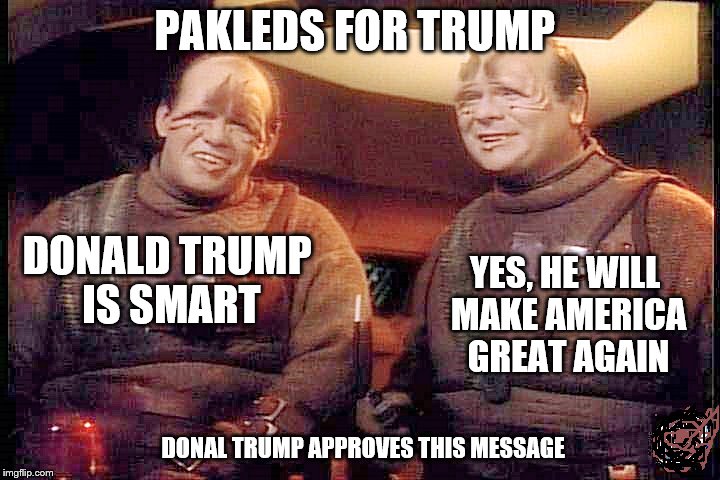 Looks like many anti-police agitators in Boston. Police are looking tough and smart! Thank you.

— Donald J. Trump (@realDonaldTrump) August 19, 2017
Our President is a Paklid. Who thinks his own tweet is so clever, he responds to it:
Great job by all law enforcement officers and Boston Mayor

@Marty_Walsh

.

— Donald J. Trump (@realDonaldTrump) August 19, 2017
And then somebody takes his phone away:
Our great country has been divided for decades. Sometimes you need protest in order to heal, & we will heal, & be stronger than ever before!

— Donald J. Trump (@realDonaldTrump) August 19, 2017
I want to applaud the many protestors in Boston who are speaking out against bigotry and hate. Our country will soon come together as one!

— Donald J. Trump (@realDonaldTrump) August 19, 2017
Ein volk, ein reich, ein
....no, that's unfair. But does this mean Bannon left, and then returned, or never left, and then did? Also, they do know we can see those first two tweets, right? And does this mean Trump will hold a press conference on Twitter to reverse what he said on Twitter?
And meanwhile, back at the ranch, before this started:
Republicans in Washington are exhausted and in despair after President Donald Trump's gross mishandling of the administration's response to white supremacist violence in Charlottesville, calling it a "f*cking disaster" and worrying that Trump has done permanent damage to the party.

The Hill reported Saturday that Republicans of all stripes are concerned that Trump's combative press conference and unwillingness to denounce neo-Nazis and the Ku Klux Klan has undone years of outreach by the GOP to nonwhite voters.

A "veteran Republican strategist" told the Hill on condition of anonymity, "I don't know where we go from here" after Trump alienated millions of Americans by saying there were "many fine people on both sides" of the violence that killed 32-year-old Heather Heyer and left at least 19 others injured.
If we are smart and tough the healing will begin!